Little Giant Hammer Parts

Pricelists

SIZE:  The size refers to the approximate weight of the ram and upper die.  Most Little Giant Power Hammers have the size of the machine case on the flywheel.  The size may also be indicated by a letter, usually found in front of the serial number.  If it is not listed in either place, get out a tape measure and use the table below:

The serial number is typically found on the side of the frame, either cast or stamped. On very early models, the serial number can be found on the spine of the frame approximately 6" below the main bearing.  This was usually stamped in a spot that had been filed flat.  Knowing the serial number makes ordering parts easier and more accurate.

If there is not a serial number, see
Evolution of a Giant
for more details.

500 lb. Parts
We have some miscellaneous parts for 500 LB Little Giants, and can make some new ones upon request. Call for price and availability.


Misc.

T-Shirts

, available in Medium and Large for $14.00 . . . . . . . . . . . . . . . . . XXXL for $18.00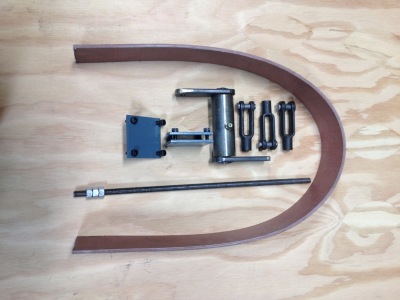 Brake Parts Kit

This is not a complete bolt on system.

Parts included:

Babbitting

Kerrihard Spring

Parts for Mayer Brothers Power Hammers

Made in Kaukauna & Antioch, Wisconsin; also known as Murray, Murco or Moloch brand.

Other 100 LB dies can be made upon request.  Little Giant die system tops will work with these die system bases.  Some Little Giant parts will interchange with Wisconsin hammer parts.

Little Giant arms can be used in pairs, with a Little Giant spring, in place of Mayer Brothers arms.  Little Giant pins will interchange with Mayers.

Blacksmith Coal